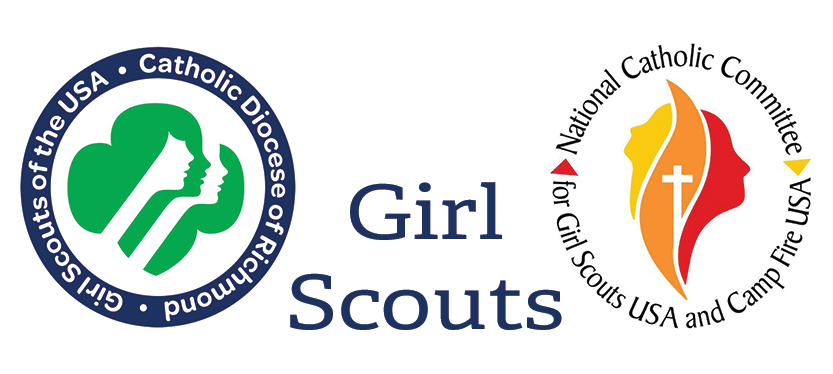 Religious Emblems for Catholic Girl Scouts
Faith in God is an important part of Scouting.
What does it mean to be a Catholic Scouts? It means being a Scout that believes in Jesus Christ and upholding everything the Catholic Church believes and teaches.
Scouts grow to understand their faith within scouting through earning Religious Emblems.
Religious Emblems help Scouts grow stronger in their faith life, providing an opportunity to learn more about Catholicism and grow closer to Christ.
Earning Religious Emblems is an important cornerstone of faith development in study, activities, prayer and community help to strengthen their spiritual foundation.
Developing a deeper relationship with God coupled with a love and understanding of the Catholic Church will carry young people through the rest of their life.
---
---
Diocesan Recognition Programs & Special Awards
Special Adult Awards
Additional Information
All adult volunteers working with youth in the Diocese of Richmond are required to complete a Volunteer Application Form including a confidential reference screenings and criminal background checks. Your parish office can assist you with this process.
Additionally, all adult volunteer participants must complete the Diocesan Safe Environment Virtus Training. To register for the Virtus Training, go on www.virtus.org to register for a training session in your area. For additional Virtus information, contact the Office of Human Resources at the Pastoral Center or by phone at 804-359-5661.
Girl Scouts must be registered with the Girl Scouts of the USA to work on these religious emblems.
Those Scouts living outside the USA should contact the Archdiocese of Military Chaplain or the National Chaplain upon completion.
All program material for Girls Scouts are obtained from the National Federation for Catholic Youth Ministry (NFCYM)
To order any of the above awards, click here
Medals should be presented at a Mass, at a Diocese of Richmond Religious Emblem Ceremony or appropriate Court of Honor ceremony.
Interested in facilitating a religious emblem program? Need more information? Please call our office at 804-622-5159 or send an email to us at [email protected].
Councils
Girl Scout Commonwealth Council of Virginia, Inc.
Girl Scout Council of Colonial Coast
Girl Scouts of Virginia Skyline Council, Inc.